I've not played ahugeamount of Return to Ravnica Draft (certainly not the 50 or even 100+ drafts of some I know) but enough to have played both with and against most of the guilds and their variations: "big" and "small" Rakdos Selesnya of Common Bond aggro and grinding populate varieties etc.
I put this experience toquestionablegood use in a recent double draft event here in London where despite the top prize being worth several hundred dollars I elected to "have a bit of fun" and not just draft generically good decks based on what I read as open. In the first draft I went 2-1 after sitting down and deciding to force Selesnya regardless of what was in my boosters and if I was being cut off at all.
In the second draft I went even deeper with a fourteen-land Rakdos deck that had a curve ending at three mana six one-drop creatures two Dynacharge and four Deviant Glee somewhat reminiscent of my favoriteMagic Online Cube Draft decks. I lost my win-and-in versus Golgari two games to one surprised at how well my hyper-aggressive deck had performed despite being fairly risky and lacking many of the "definitely good" Rakdos cards (no Gore-House Chainwalker Annihilating Fire or Rix-Maadi Guildmage and only a single Stab Wound). I'd honestly expected to go 1-2 with my "win" being a third round bye.
A quick side note here: Rakdos Charm while widely considered the "worst" of the cycle and fairly unusable is actually totally awesome and a sweet maindeck card. Very occasionally it will clear out multiple scavenge cards in a Golgari graveyard and sometimes it will destroy a Keyrune but most of the time when combined with some management of your board presence via chump attacks it's a two-mana Char (or better). Take a stalled board of several creatures apiece: you attack with everything. If your opponent doesn't block enough you might have the killer burn spell / Dynacharge. If your opponent blocks too much you just let your little guys die and then Rakdos Charm for lethal. It's worth a try I promise!
A couple days later I dug into the tail-end of a conversation and saw the following series of tweets from Brian David-Marshall who'd also been doing some experimenting with my new best friend Bellows Lizard:
Won a draft going Boros tonight. Don't think the sum total of all my games was 30 turns. Going to be hard to give up on this.

— Brian David-Marshall (@Top8Games) October 26 2012
@dangerawesome 16 or 17 with Bellows Lizard as a sink and the Viashino guys to loot away lands

— Brian David-Marshall (@Top8Games) October 29 2012
While Brian wasn't being as...ambitiouswith his land counts I liked the sound of these decks a lot. Ethereal Armor and Swift Justice providing first strike sounded like a great solution to blockers of non-zero power versus my 1/1s and I'd already enjoyed the Viashino Racketeer's filtering a great deal in a variety of decks.
Then on the bus to work the next day I readthis article from Ari Lax in which he recounted his eight Ethereal Armor draft from GP Philadelphia (emphasis added is mine):
"Draft #2 I opened and slammed aMizzium Mortarsand second picked anArrestover aNew Prahv Guildmage. The pack proceeded to flesh out a U/W/R control deck a la Brian DeMars but I noticed a fewEthereal Armors floating around. I made a mental note to pick up answers to that deck andfound two of the three Armors in my pile 13th and 14th pick. Pack two I kept an eye open for more copies andwheeled another three with the same happening pack three."
I had my Eureka! moment and swiftly jotted the following bullet points down in Evernote:
Some cards are widely considered not pickable (or at the very least not highly pickable) and will (nearly) always table.
In each drafton average and not taking into account print runs etc.there will bethe following number of each common and uncommon:
Common (8*3*10 = 240. 240/101 = 2.38).
Uncommon (8*3*3 = 72. 72/80 = 0.90).
Combine these two and we canpretty muchguaranteeaccess to a number of these cards in every draft without using picks 1-8 in each pack€"there is simply no competition for them.
If we can find a way to make these "bad" cards at least "playable" or even "quite good" AND are near-enough sure to be able to get them in addition to the "actually good" cards we spend our first eight picks each pack on...
We end up drafting more playables for our own deck than anyone else has for theirs potentially leading to a stronger overall deck.
We can "waste" some of our picks 1-8 on just ruining other players' drafts hating cards they may need or that are good against us.
During my lunch I popped into Excel and using recaps of fifteen Magic Online drafts from GoodGamery and some articles I had a look at how often a selection of cards (some I was genuinely interested in others included for comparison as a "control") came back on the wheel picks 9 through 14. Obviously the sample size is small and perhaps the method imperfect but I was excited to see the results. Taking the total number of times each card wheeled and dividing by the number of drafts I saw that assuming these fifteen drafts are representative on average you can get the following number of each card per draft without ever using a pick 1-8:
Ethereal Armor - 0.8
Trained Caracal - 1.2
Swift Justice - 0.47
Dynacharge - 1.07
Bellows Lizard - 1.53
Electrickery - 0.6
Viashino Racketeer - 0.93
Traitorous Instinct - 0.6
Deviant Glee - 0.67
Cremate - 1.53
Mind Rot - 1.27
Shrieking Affliction - 0.67
Drainpipe Vermin - 1
Perilous Shadow - 0.53
Crosstown Courier - 1
Blistercoil Weird (uncommon) - 0.67
I really was onto something. Just look at those numbers for Ethereal Armor and Bellows Lizard cards we're now fairly sure we can make good use of! Averaging up for a little good fortune look at what we "know" we can start our Boros draft decks with!
2 Bellows Lizard
1 Trained Caracal
1 Ethereal Armor
1 Viashino Racketeer
1 Traitorous Instinct
1 Dynacharge
I'd done the theory stats legwork and it looked like my new way of looking at Limitedfocusingfirst on the cards we can "guarantee" wheeling was sound.
Now the only thing I had to do was to put it into practice on Magic Online and my place in Magic theory history was all but assured.
I got home and jumped straight into a 4-3-2-2 queue. The highlights:
P1P1 - I gladly took Annihilating Fire over a Martial Law to force extremely aggressive Boros aiming to wheel a Traitorous Instinct.
P1P2 - Azorius Arrester hoping for a Swift Justice to come back.
P1P3 - Hellhole Flailer in a bare pack knowing the Bellows Lizard would return.
P1P4 - Sunspire Griffin hoping for a second Swift Justice pick 12.
...
P1P9 - Traitorous Instinct came back.
P1P10 - Swift Justice came back.
P1P11 - Bellows Lizard came back
P1P12 - Swift Justice CAME BACK.
I was Hannibal from the A Team. I chomped down on my cigar and pulled on my aviators as a jeep barrel-rolled over my head sat back and watched as my plan came together:
P2P1 - Frostburn Weird. Racketeer will be back.
P2P2 - Chaos Imps over some dross and a Bellows Lizard. Thanks for the Dragon!
...
P2P9 - Viashino Racketeer wheeled just as I predicted.
P2P10 - Come to papa little Lizard.
...
P3P2 - A third Gore-House Chainwalker over the third Frostburn Weird. I AM INVINCIBLE€"I WILL GET HIM PICK 10 NO DOUBT IN MY MIND.
...
P3P10 - Let's get (Frostburn) Weird! HATERS BOW BEFORE ME I AM YOUR NEW GOD.
P3P12 - As always Blistercoil Weird came late but I didn't even need him.
No one opened any Ethereal Armors it seemed but the deck was incredible regardless. Triple Gore-House Chainwalker triple Frostburn Weird some burn spells and combat trickery a Dragon and I even managed to squeak in a cheeky Stab Wound off a late Rakdos Guildgate.You can see some pictures of the final build and find out morehere.
Round 1 began and I won the die roll.
I was ready to take the whole thing down prove my theory right and gain the people's ovation and fame forever.
Two Mountains Rakdos Cackler Gore-House Chainwalker Frostburn Weird Annihilating Fire Swift Justice. KEEP.
The planets were aligning; the universe was willing me forward to victory.
Mountain Rakdos Cackler (unleash) go.
...
Seven minutes later and after playing nothing but the spells in my opening hand two games in a row I was knocked out in the first round.
I screamed.
I cursed.
I shook my fist at my computer monitor and asked no one in particular why they were daring to try to stop me from completing my very important work.
I was Michael Douglas in Falling Down and my day had just been messed with for the last damn time.
I WOULD SHOW THEM ALL!
Now playing the parts of both the Tower of Pisa and the physical embodiment of pure rage I signed up for the next draft to fire an RTR Swiss.
Have you ever seen a man crumble to pieces and descend into the depths of madness before your very eyes?
No?
Then enjoy!
I built the following deck and couldn't even screenshot it correctly.
I'd not had a drop to drink yet felt dizzy and delirious.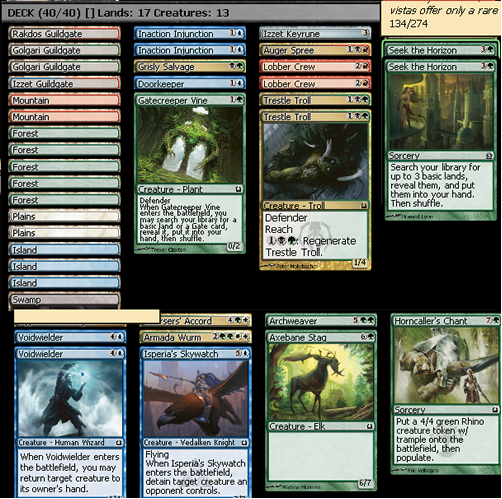 (The cards blocked from view are Jarad's Orders and Hypersonic Dragon)
The bloodthirst now worn off I wondered if there was any way I could possibly salvage this into an article of some kind.
I opened a notepad file and typed along as I played (below unedited):
ROUND THE FIRST
I guess I draw with this deck right?
I mull to 5 on the draw:
grisly salvage forest izzet keyrune hyprsonic dragon island
then f6 through my turn 3.
he is off to a slow start though pegasus and golgari decoy it's fine
t5 DRAGON YOUUUUU
he EOT eyes in the skies
i brick and have to stay back on D
he EOT eyes again
amazingly writing this while playing is taking very litte time
this might be because i am making zero plays
i fall to 5. draw nothing. scoop.
there's nothing in my sideboard is there? Can my manabase be improved? I cut a forest for an island
Game 2
DRAW OBV
sick hand: islandx2 forest gatekeeper vine lobber crew izzet guildgate seek the horizon
he plays bothing turn 1 or 2. IN THE BAG
He doesn't play a third land!
I'm forgetting to eat my soup and it is going cold
eat your soup dan
LOOK AT THIS BOARD!!!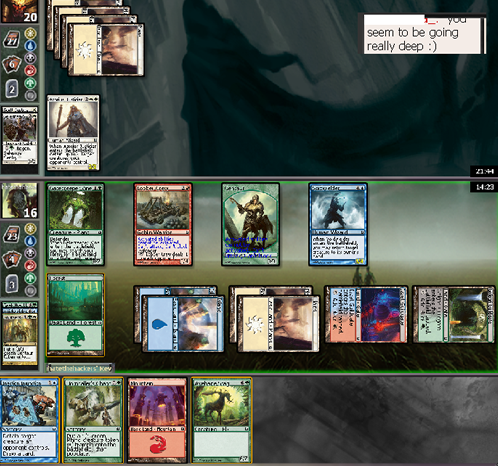 my opp. starts crying about lands
THIS IS GREAT!
i have 11 mins to his 20 i lied earlier about this not taking much time...
oh he concedes that's cool
Game 3
mountain horncaller's chant izzet guildgate voildwielder island golgari guildgate at 6
SNAP KEEP
draw 2 more lands now have all colours
spells now please
my opponent is crying again already despite the fact he has 3 guys 6 power on turn 4
i draw more land. awkward
i'm at 9 now and he's just played an armory guard
i voidwielder his 3 power man
i keep drawing lands
i go to 3
not even you can save me now trestle troll.
*sniff*
I concede
0-1 in the swiss
YEA BABY I'M FINALLY HOME!
I eat the remainder of my now profoundly cold lentil and bacon soup.
A notification informs me that my first round opponent has won the previous draft. Sack.
I check my Twitter feed.
STAR WARS EPISODE 7?! Lucasfilm bought by Disney?! A new film every 2-3 years for the forseeable future?! This franchise is heading for the toilet faster than my entry fee for this draft!
My best friend at work Adam loves Star Wars. He's going to go absolutely mad at this. I post a suitably antagonising comment and link on his Facebook wall.
The internet is ABLAZE with Star Wars talk.
I mean I like it enough but it's nothing special.
*dodges thrown objects*
Prefer Star Trek (TNG) myself.
Though i'm not even much of a trekkie I've probably only seen a third of the episodes.
I am a crap geek.
Swiss rounds take FOREVER. Still waiting for a match to finish 10 minutes later.
I may not have the time/patience to play all three rounds I'm warning you right now.
Waiting 15 minutes now. I think this SMM guy still playing might be [REDACTED] giving someone the 10 minute timeout.
Oh no we're going again now.
ROUND NUMERO DOS
We're put on the draw
golgari guildgate seek the horizonx2 island mountain jarad's orders lobber crew
SNAP KEEP

Nuts I'm at 10 and he has Azorius Arrester Skymark Roc Voidwielder Martial Law to my Doorkeeper (detained)
I THOUGHT THIS WAS A GOD HAND!!!
Draw Trestle Troll. We're going full on Walls.
Oh he can detain my reach guy huh...
I go to 6.
HE CAN AVENGING ARROW MY LOBBER CREW I USED?! NOT COMBAT DAMAGE ONLY?!
He wins game 1.
Game 2
I'm playing SMM
Let's try going on the play for a game?
Mull to 6: golgari guildgate swamp forest grisly salvage trestle troll seek the horizon
SNAP KEEP
We EOT Salvage and put both our sweet 2 token spells in the bin. Rinsed.
MY DRAGONS AND WURMS WILL LAUGH AT YOUR "SECURITY BLOCKADE"!
We t4 Seek for 3 basics and will now have all the coloured mana we need.
I cast my frshly drawn Gatekeeper Vine and forget to leave up regen mana for the troll
I'll just block anyways
He has no trick.
AVENGING ARROW AGAIN?! TROLL DOWN!
I draw inaction injunction and just play a land and pass back.
I don't chump with he vine.
He has EOT Hussar Patrol.
No I idn't think you were going to attack.
He has double blue now. COuld he have cancel?
Lobber crew resolves. Voidwielder resolves and bounces his knight token.
I have 8 mins left better hurry up.
OH BALLS
I attack with stag detain it and cast my huge spider.
I mess up ordering of blockers for my Spider on my next attack
He has another Avenging Arrow for my stag EOT
I draw and cast a doorkeeper.
He attacks again and detains my pair of active Lobber Crew he's at 7. his attack is now lethal.
I do all I can - tap both crews for damage then cast Auger Spree on his Archon to take less damage and untap them.
He casts Fall of the Gavel on my Ager Spree.
I lose.
Straightonto the final round this time.
ROUND THE LAST
I keep Izzet Keyrune forestx2 archweaver Gatekeeper Vine Trestle Troll on the draw.
He has a Launch Party to kill my Lobber Crew with his own Gatekeeper Vine.
Desperate times...
I draw and play a second Lobber Crew because I am the best.
He Cremates the dead Lobber crew (mainphase) before casting a Rakdos Shred-Freak that stays at home.
This round might be more my kinda speed.
I win game 1.
I've still not drawn or cast Armada Wurm.
I swap a forest for an Island again why not.
Game 2
I'm put on the draw.
I mull to Trestle Troll islandx2 mountain plains doorkeeper
Draw Horncaller's Chant
THANKS DECK!
Draw swamp play it (in case we have forest for Troll next turn) play Doorkeeper.
Draw Voidwielder. COME ON FOREST!
Draw Armada Wurm. Great...
I lose
Game 3
Things are going terribly in this game.
I am John McClane in Die Hard 7. I'm far too old and tired of this now.
Hana arrives home from her late shift to save me from this hell.
I draw lands for another two turns then concede the match.
Postscript
A great man once said: "Tell me what you draft and I'll tell you what you are."
Based on the evidence presented above I am a madman.
"Deranged and a danger to himself and those around him" the man in the white coat said as they trundled me away to my new home.
At least the walls are nice and soft here and this special jacket is very thick and warm.
I have to wear Velcro shoes now.
I do very much hope they'll let me have more paper so I can write to you again.
I want to tell you the stories of my dreams.
*crack of lightning across a dark and stormy sky*
Well they're notdreams exactly...