Every week, I'm asked some variation of the following question: "Magic cards are getting pretty expensive these days! Are we in a price bubble? Are Magic values about to crash?"
I've tackled this question to some degree before, examining possible bubbles in both Standard and Legacy. In those cases, specific events were causing prices on a few cards to spiral out of control. While the values on those cards have by and large come down in price, Magic hasn't experienced an overall crash in the secondary market since the release of Chronicles. For the last fifteen years, it's been a more reliable place for investment and speculation than almost any other market.
So why are some people still scared? Well, it's because of charts like this: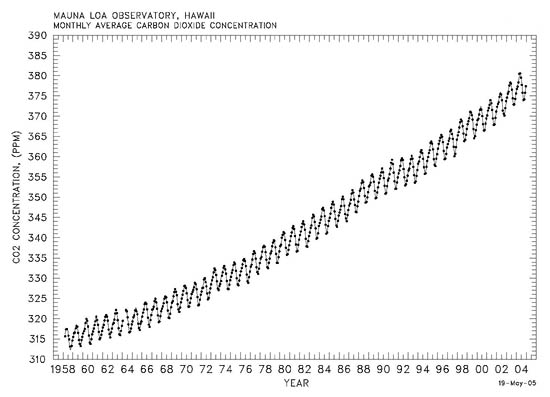 Oh wait, that's just the chart of how much carbon is being added into the atmosphere every year. Phew! Nothing to worry about there.
Here's the chart I was looking for, courtesy of my friends at The Black Lotus Project: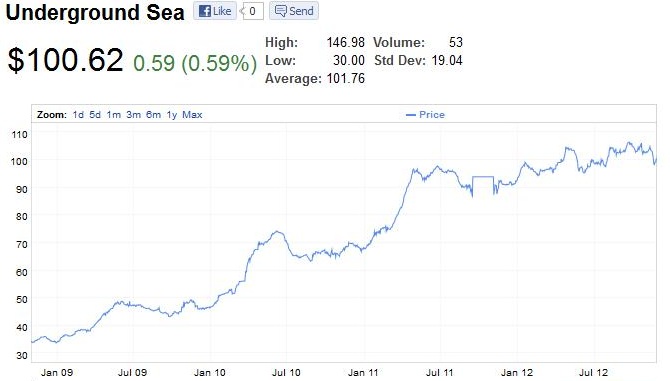 A slow and steady climb might not seem as scary as an exponential rise, but the card has still tripled in price over the past four years. And let us not forget another commodity that spent a full decade rising in value: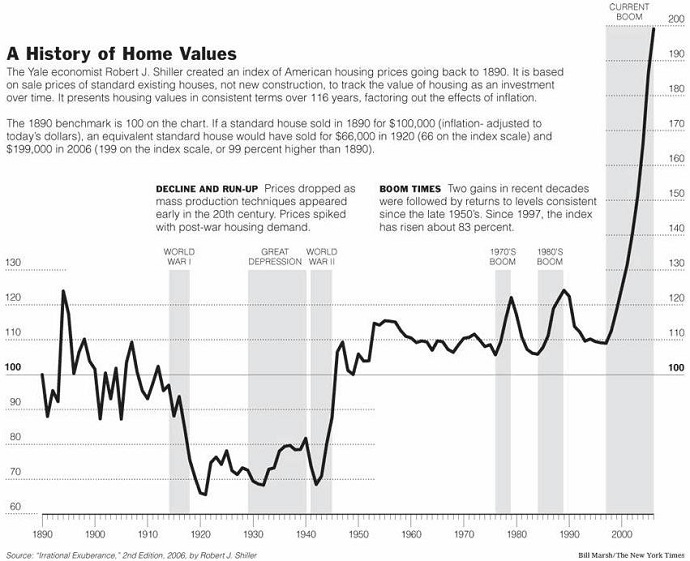 This graph shows the relative price of home values in the US from 1890 through 2006. For about a hundred years, owning a home really wasn't an investment—it was just something you bought if you had enough money to afford one. In general, housing prices stayed in pretty constant rhythm with inflation, give or take a few economic trends.
In 1996 or so, prices took off. Once savvy investors and speculators started seeing what the prices were doing, they began flipping houses as fast as they could, often to other speculators. Banks began giving mortgages to less and less qualified buyers, causing a massive influx of new demand. Large investment banks began trading in credit default swaps—gambles that these less qualified borrowers would not default on their mortgages.
Then they leveraged the credit default swaps over and over again, gambling fifteen or twenty times as much as the cost of the mortgage. When the market inevitably turned, the ripple effect toppled many of the country's largest financial institutions. This spiraled even further downward and caused more people to default on their loans. The resulting mess is still crippling the global economy, and its effects will be felt for decades to come.
So what about Magic? Much like housing prices, Magic cards have been on the rise since about the same time. Cards might not have taken as extreme a jump as the housing market, but many of them have gone up in price at a faster rate than home values did. We too have had speculators make their presence known in the market, sometimes causing the price of a card to jump tenfold overnight. Are we heading for a crash?
There are two major types of market downturns. One is normal—something changes to cause a stock, commodity, or asset to be worth less, and the price adjusts accordingly. One is not—if prices were rising due to a bubble and became untethered from reality, things can adjust downward in a quick and violent tailspin.
Because it's more interesting, let's talk about bubbles first.
Bubble Markets and Intrinsic Value
In economic terms, a bubble market happens when an asset starts to trade at a considerably higher price than its intrinsic value. As an example of price vs. intrinsic value, let's look at a fictional company. Let's call them…oh, I don't know…Brushwagg Inc.
This year, Brushwagg spent five million dollars on salaries, marketing, and manufacturing along with all of the other associated costs of running a large tumbleweed company. It was a good year, though, and the company took in a cool ten million dollars. That's a profit of five million bucks—not too shabby!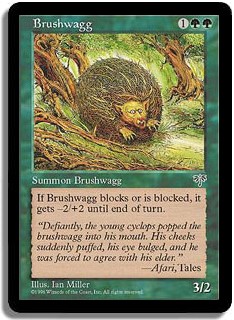 The founder, Count Jerome R. Brushwagg III, then decides to take the company public. He divides the ownership up into 1,000,000 shares and puts 499,999 of them out on the open market. It's a feeding frenzy. The price starts out at $5 a share, and then it quickly jumps to $10. Even though the company doesn't turn a profit over the next six months, the price hits $15 based on hype and rumor. When the company announces an amazing new prototype, the price surges to $40 a share.
At this point, the market value of the company is 40 million dollars. But what is Brushwagg Inc. actually worth? There are lots of algorithms that economists use to figure that out, but most of them come back to how profitable the company is or has the potential to be. It's certainly conceivable that a company making five million dollars a year could be worth forty million, but what if the stock kept going up? What it if went to $200 a share? What if profits went down and the company started losing money? What if the shareholders learn that the CEO is a fictional woodland creature? This is where market value and intrinsic value can become completely disconnected.
This happened a lot in the early days of Internet stocks. Companies that weren't making a dime in actual profit were trading for $100+ a share, mostly because other Internet companies that also weren't profitable were trading at $200 a share and no one wanted to be left out of the game. People stopped caring what the companies actually did, what their valuable patents or IP were, what their actual market share was, or even how profitable they were. Eventually, this resulted in a market correction where a lot of people lost a lot of money.
Of course, intrinsic value is a hard concept to figure out, even for professional economists. After all, who says what the intrinsic value is of something like a plot of land? Measuring profits works for some assets, but in most cases that is impossible. In fact, it is reasonable to argue that Magic has an intrinsic value no higher than the cardboard each rare is printed on.
One place in Magic where we can use something that approaches intrinsic value is in analyzing current sets. If there were to ever be a 'Standard bubble,' it would have to be due to secondary market prices becoming uncoupled from the average price of a sealed pack. The fact that WotC has an unchallengeable monopoly on new cards and they get to set the prices and print runs means that the market for in-print cards is tightly regulated. Because of this, a price bubble can only happen in Standard when a set is severely short printed. Otherwise, dealers will simply crack packs and increase supply until the market corrects itself naturally.
A small bubble does tend to form in the preorder period of a strongly hyped set. This is because no packs have been opened, so the card supply is at zero. Because no one can open packs in order to regulate the market, card prices don't necessarily need to have any relationship with intrinsic value. For example, throughout most of the Return to Ravnica preorder period, the average StarCityGames.com value of cards in the rare/mythic slot was over five dollars. Because packs retail for less than $4 each, it was clear to anyone paying attention that the average rare price had to drop when the set came out.
Even here, though, the bubble can never get too big. If preorder prices get too high, enterprising speculators will start making orders for cases and preselling cards on their own. While the risk of opening poorly and the large amount of cash that has to be laid out up front makes this unattractive to most people without a retail store, it's still a safety valve helping market prices stay at a reasonable level, even during preorder times.
Of course, we don't really have a way to establish an intrinsic value on older cards. Buy lists? Tournament prizes? These are based on the current, healthy Magic economy and have no value on their own. At this point, we're going to have to start looking at the possibility of a Magic bubble in much broader terms.
That search begins four hundred years ago.
Tulip Mania
The most famous historical example of an economic bubble is the Dutch Tulip Mania of the 1630s. For several years that decade, tulip prices in Holland soared to insane heights. Even common tulip bulbs sold for a ton of money, and the rarest of them would cost over ten times as much as a skilled craftsman would earn in a year. In today's dollars, that would put the price of some of these bulbs at over half a million bucks. Then, seemingly out of nowhere, the market crashed and tulips became just another flower.
How did this happen? Most scholars agree that it was due to a few factors:
A booming economy. Holland had gained independence from Spain, and as a result the country was entering a period of excess wealth. Most of that wealth was centered in the expanding merchant class, which was flourishing thanks to new and lucrative East Indies trade routes.
The newness and desirability of tulips. There was literally nothing else like them in Europe at the time, so they instantly became a status symbol among the Dutch elite.
The exportability of tulips. Not only were they unique in Europe, but Holland was the only country in the area where they could be easily grown in mass quantities. During tulip mania, they were Holland's fourth largest export.
Genetic variance. Unlike most flowers, tulips come in very different varieties with wildly different color schemes. It's easy to tell a rare tulip from a common one if you know what you're looking for, making a good tulip an excellent status symbol.
Rarity. Because tulips come from bulbs, it takes several years and careful cultivation to end up with more tulips than you started with. In addition, the rarest tulips have a unique color scheme due to a genetic disease that is hard to select for and causes a lot of bulbs to fail. Because of that, the number of these ultra-rare tulips never really increased during the length of the mania.
Pro-speculation government intervention. Once tulip prices began to take off, a futures market started to establish itself around the flowers. Most people didn't trade the actual tulips themselves, preferring to swap pieces of paper that acted as options to buy the flowers once they were ready to bloom. After a while, a rumor started circulating that the Dutch government was about to pass a law allowing speculators to get out of their spec options for a tiny fraction of their value. The law said that if you made an agreement to buy a certain tulip for one thousand guilders and the price went down, you would only have to pay the farmer a dozen or so guilders as a penalty for cancelling the deal. Conversely, if the price went up, you could still sell the option to another speculator for hundreds of dollars more than you paid. This law, once passed, encouraged a massive amount of risk taking and likely helped the bubble grow.
With all of these factors in place, it's easy to see why so many people were enamored with tulip trading. The rare variances were naturally rare, demand was high, and risk was extremely low. What could go wrong?
Spoiler alert: it was market confidence. The tulip crash started when someone held a tulip auction and not a single buyer showed up. Everyone panicked and tried to sell their assets at the same time. That chain reaction apparently reminded everyone that flowers aren't actually worth anything.
Looking at what caused tulip mania, I don't think we have to worry too much about Magic being in some kind of speculation bubble. We aren't living through economic boom times—the global economy has been in a rut for years. Magic isn't a new commodity that took the market by storm—it's been around for almost twenty years. It does have a successful system of built-in rarity, but that has shown to be stable. Lastly, Magic speculation carries the same inherent risk that all markets do—no one's done anything to lower risk to the sort of level that would cause a bubble to form.
Of course, this doesn't mean that the Magic market won't crash, just that prices are likely not in a bubble right now. Because Magic cards really don't have any inherent value, the market exists only because of confidence.
This isn't necessary a bad thing. Magic cards have value because we trust that Wizards of the Coast will keep increasing the player base, making interesting expansions, and supporting older formats. This isn't much different than most currency, honestly. There's not a single country left on the gold standard, so a US dollar is only worth what it is because we have faith that the American government won't collapse any time soon. All markets require confidence to function—wealth is entirely a game of trust, and things are only worth what we all sort of arbitrarily decide they are.
The question then becomes this: how prone is Magic to a crisis of confidence?
Economic Health and Consumer Confidence
Recessions are generally cyclical. They tend to start because some outside influence causes consumers to get wary and spend less money. In turn, companies make less and are forced to lower salaries and cut back on staff. The people who lose their jobs spend even less money. Banks notice people starting to default and begin to get stingier with their loan requirements. It's a feedback loop that is only fixed when people start to feel confident that they can spend money again and not risk ending up on the streets.
This has happened before in Magic, of course. The Chronicles disaster along with the overprinting of Ice Age and Fallen Empires depressed card values for years. People didn't have the confidence that Wizards wouldn't destroy the value of their Magic collections, and it took a toll on the game. This is what necessitated the much-hated reserve list—a nuclear option that helped save Magic at the time even though it is crippling Legacy today.
Is it possible to identify a recession before it happens? When measuring the health of a country's economy, there are lots of statistics that economists call 'leading indicators.' These are things that generally signal whether or not the economy is likely to get better or worse in the short term. Economists disagree over what the best leading indicators are, but GDP, unemployment numbers, consumer spending, an increase in manufacturing, and new housing permits are among the best things to look at.
The closest thing to a GDP in Magic is the size of the player base. According to Wizards' past few quarterly reports, it is estimated that the Magic player base has tripled in size since Alara Reborn. This is the growth that has led to nutty prices on Legacy staples and is currently necessitating the release of Modern Masters next spring. Return to Ravnica is likely the best-selling set of all time, beating out Innistrad, last autumn's expansion.
Accordingly, the price of many of the older staples seems to match this increase over the past four years.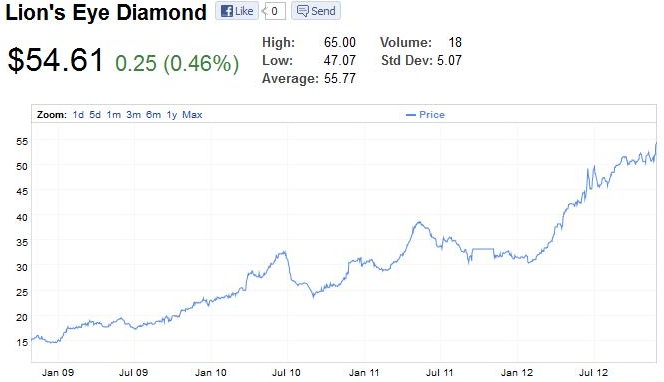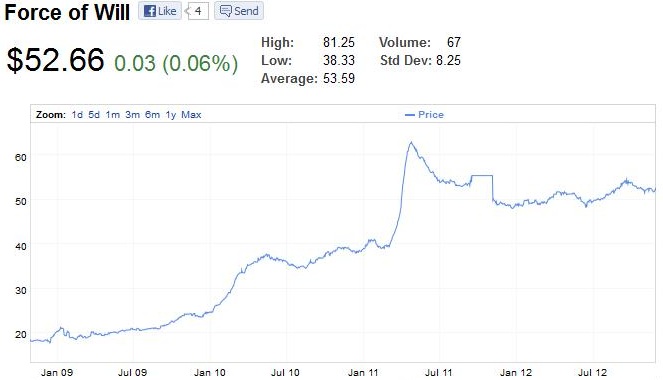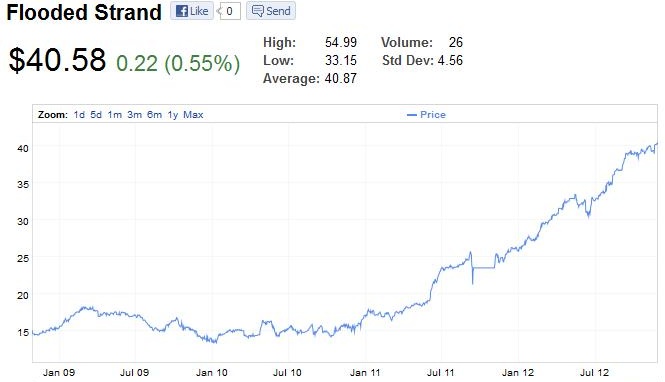 Most of the Legacy cards that don't show this sort of growth have some kind of mitigating factor. Either they were reprinted, their decks fell out of favor, or new cards were printed that changed their place in the metagame considerably.
Interestingly, the market for casual cards has far outpaced that of competitive cards.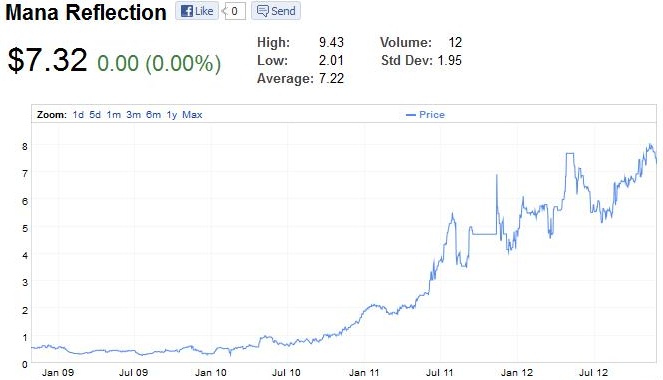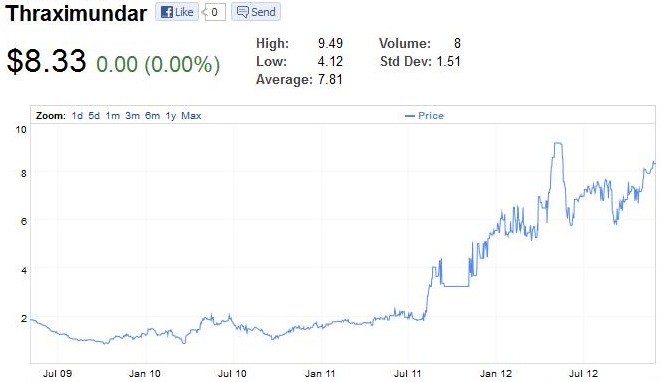 This rise, of course, can be attributed entirely to the rise of Commander as a format.
Standard, on the other hand, hasn't been affected as much by the influx of players. This is because the number of available copies of each card in Standard isn't static; it's elastic and based on the number of packs purchased. WotC has been good about increasing supply along with demand, so the prices for the top decks have been fairly constant.
There are a few differences now. For one, the addition of the mythic rarity caused the prices of regular rares to come down in price for a while. For years, only a tiny handful of normal rares broke $10. That's changed a little in recent days, though—Return to Ravnica has all five shocklands and Deathrite Shaman at $10 or more.
Where is all that value being taken from? Some if it is just coming from the fact that the sets are better, so singles have started to hold a larger percentage of an unopened booster's retail price. The rest of it is coming from the very worst rares in a set. For years, even terrible rares were generally worth at least a buck to someone. Nowadays, an unplayable rare is a quarter at best.
Even still, Standard inflation hasn't been unreasonable. In January 2009, Thoughtseize and Bitterblossom sold for $25 each. Today, $25 will buy you any card in Return to Ravnica except Jace, Architect of Thought. That strikes me as a healthy market, not a bubble that's ready to burst.
In my opinion, Magic prices are about where they should be if you factor in pack costs, historical prices, print runs, and the size of the player base. I do not believe they are inflated to a point where we are in danger of prices entering free-fall—at least, not unless some outside force does something to our confidence in the secondary market.
What could cause Magic prices to crash? Here are ten possibilities, ranging from most plausible to least:
Wizards whiffs on a few sets in a row and the metagame in multiple formats gets boring and/or oppressive. Organized play numbers drop, and the player base starts shrinking. Several sets are overprinted, demand starts to outstrip supply, and people start to panic a little. Demand goes soft for several years.
A loss of support for one or more Eternal formats. Here's where Wizards doesn't hold all the cards. If StarCityGames.com were to stop supporting Legacy and holding Opens, we would absolutely see an erosion of Legacy prices as people would begin to lose interest in the format.
Another CCG (or DCCG) is released that is somehow better than Magic. People start to jump ship in massive numbers.
A mass reprinting of older cards. I doubt that Modern Masters will hurt the market, but if it's overprinted to the point of Chronicles (which Wizards has said they wouldn't do), I could see people losing faith in the long term viability of their collections.
A major change in tournament/organized play policy. If it stops becoming interesting to play Magic at a professional level, card prices will plummet.
WotC decides to abandon paper and focus solely on Magic Online.
Major corporate overhaul at Hasbro/brand mismanagement. What if Disney bought Hasbro and a boneheaded executive decided that Magic needed to start incorporating Transformers characters into its world? What if they decided to restructure Wizards entirely?
The release of a card or set that blows up every format at once. If R&D decides that we can have 4/4 tramplers for G and hard counters for U, people will start to lose faith very quickly.
A global economic crash (far worse than the last one) or major natural disaster (Hey kids! Remember that carbon chart?) forces people to abandon Magic entirely. If this happens, card prices will be the least of your problems.
Ph'nglui mglw'nafh Cthulhu R'lyeh wgah'nagl fhtagn.
Conclusions
Magic is just a game. If you and I and everyone we know stops playing, our cards will cease to have any value at all. This is a deeply scary thought for those of us who have a lot of money tied up in pieces of cardboard, and with prices having tripled over the past few years, I can see where the concern comes from.
However, the Magic economy—for what it is—seems like it is fairly sound. The driving force of price increases over the past few years can likely be attributed to a tripling of the player base, the rise of a popular new casual format, and an increase in the number of competitive tournaments available to players worldwide.
I'd never recommend that anyone invest all of their money in the stock from a single company, though—which, in effect, is what you're doing when you tie everything up in Magic cards. Too much can go wrong. But if you have a decent-sized collection that you play with on a regular basis, feel free to sleep soundly tonight. If a Magic crash is coming, the signs aren't visible yet.