Ever had a crazy idea in deckbuilding that, if everything fell into place, would work beautifully?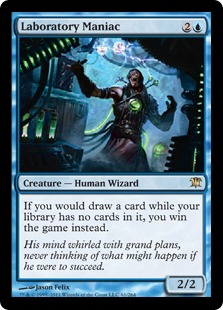 Laboratory Maniac perfectly embodies the decks I try to make: wild and wacky, so much so that I don't even know what I'd do if it worked. I love crazy interactions in Magic. I'm not a combo player; Johnny's not really my style, but I do love synergetic decks. Laboratory Maniac is me, really. I like the wheels to turn and the cogs to spin like an engine, turning over and over until I reach my destination.
I've casually toyed with using this blue Ogre for a little while now, looking at self-milling plans as the main mode of transit. Then, when they spoiled a card from Return to Ravnica, a new plan hatched.
I was deeply inspired when I saw this card; maybe drawing is better than milling (ya think?). Free card draw can be very dangerous, and having a relevant four-turn clock seemed like a nice alternate win condition. If I played the Sphinx, it would be best to have a playset-heavy deck to maximize the probability of having multiple copies of a card in hand. Speaking of multiple copies…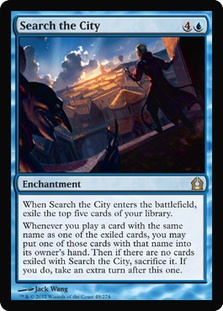 I discovered this card shortly after the Sphinx, and I was sold. To make Search the City happy, I decided to stick to mono-blue so my Islands can trigger its effect.
I'd written up the mono-blue list that included a playset of Temporal Mastery, Cyclonic Rift, Dissipate, and more. The goal was to draw cards with the Sphinx by holding on to two cards until I could cast the Sphinx and then hope to go infinite by drawing, discarding, and drawing again until I have a full grip and no library.
Creatures (12)
Planeswalkers (2)
Lands (24)
I took it to a FNM a few weeks ago, borrowed the missing cards, and with great bravado, I set forth to do no less than break the Maniac and the Sphinx wide open.
I didn't.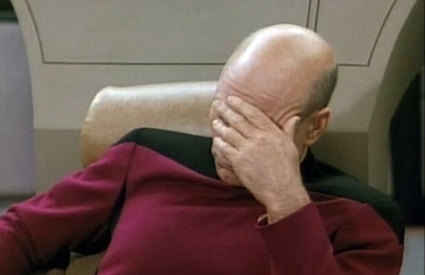 I fought mostly aggro decks that night and crumpled to aggressively powerful draws. I ended up only using the Sphinx's ability once for little profit, and Search the City became a promising candidate for the worst card I have ever cast in Standard. You know what's a bad card to hit with Search the City's trigger? That's right, any card. I would have rather had a Zephyr Spirit. At least that could block. My only game win (no match wins) in the four-round night was against Werewolves, and it took two attacking Sphinxes and a hard cast Temporal Mastery to do it.
I had been so pleased with the synergy of the deck that this utterly horrendous performance was taxing on my confidence as a Magic player. I found a major problem with straight stall in Standard, at least in this fashion. You bleed card advantage to buy you turns, and at the end of it, you end up with a Sphinx and no gas.
I plucked my deckbuilding playbook out from the depths of defeat and rethought my approach to the Sphinx and the Maniac. I was pretty much out of cards by the time I needed to activate the Sphinx. I needed to survive more efficiently against early threats while not losing card advantage. If I could hold extra defenders longer, I'd have fuel when I cast the Sphinx. I had built a fairly successful defender deck in early RTR Standard, so I decided to turn the deck blue/green for now and suit up the defender crew. Ok, great. Sprinkle in some Maniacs and some complementary spells and what do you get?
Creatures (22)
Lands (24)
Maindeck
Defenders
As highlighted above, the sixteen defenders in the deck provide the necessary time to get to my final goal. Doorkeeper, AKA Mike Wazowski, can mill either player, so it serves a dual role, and Axebane Guardian provides a ton of mana. I've found the Guardian is very innocuous, rarely drawing much ire from my opponents. Fog Bank and Hover Barrier do most of the actual blocking, Fog Bank walling anything but a Rancored attacker and Hover Barrier stopping everything else. Very efficient and quite challenging to get around, these Walls provide a surprising amount of value.
The core of this deck, this is a highly complementary duo of insanity and value. Their counts are very intentional. Three of each will provide you all that you need without flooding you (you only need one out), and you will rarely want to discard the two extra you're holding to the Sphinx unless it's your winning activation. Fingers crossed for these guys!
Digging Spells
Tracker's Instincts and Forbidden Alchemy provide nearly identical functions; both effectively mill you for four while providing the selection you need to put the right card in your hand for your current situation (or for a Sphinx discard). Additionally, each can be flashed back after being milled or discarded, digging you deeper and deeper. This kind of digging is what I need to keep my graveyard taller than my library.
X Spells
This is what I pour the Guardian into. Hitting Sphinx's Revelation where X > 10 is where I want to be. Casting this at any high value with a resolved Sphinx will pretty much let me draw through my deck. Gaining a bunch of life will also help me stabilize against a brutal attack. It's possible I play just three Revelations, but I like having an additional out if I don't have a Maniac out.
Increasing Confusion from the graveyard will flatten most control decks with any kind of draw power. Jace activations look a lot worse when you have nine cards in your library. The Revelation is really the workhorse, but the Confusion gives me options. Neither count interferes with the Sphinx's activation, as you'll never want to discard either.
This is probably my least confident choice. Cyclonic Rift has the advantage of being cast effectively on turn 2 or on turn 9 with devastating tempo loss. It's a nice way to deal with stacked planeswalkers on the cheap as well as counter an aura spell or undo several turns of board advancement. It's also a great way to deal with a thousand tokens. This card has mostly been relegated to Commander decks, but I think a deck that can produce this much mana can only benefit from a spell like this.
Land Base
Blue is my most needed color, so I have more blue sources than anything else. With white only being used for the Revelation and some sideboard cards, it has much fewer sources. I'll highlight the one and two-of lands.
Overgrown Tomb is the ideal choice for my black source for the aforementioned reason, and replacing two Forests with Tombs is more often positive than not. The Alchemist's Refuge was a no-brainer here. I can safely dodge sorcery removal by resolving my Maniac at instant speed, drop a defender, or even throw in a Sphinx. With all the mana I produce and the overarching effect of the activation (it applies to all nonland cards I cast this turn), I can pretty much win during my opponent's end step. Well, that's the hope, anyway.
The Reliquary Towers allow me to hold my whole grip of Revelation/Sphinx-generated cards. Just use it as your land drop once you breach that and let your cup runneth over! The mana requirements aren't so demanding that I can't include this gem.
Sideboard
The sideboard aims to handle very specific problems that I might have to overcome. The playset of Negate hasn't budged since I drafted the list, as I feel like I'll need it to throw off the over-the-top shenanigans my opponents try to sneak past. You won't want to use them early, but it's nice to stop a powerful planeswalker or other "counter-or-die" targets. On the other hand, it can be used defensively to push through your own win con since countermagic is about the only way to stop it. Originally, I had counters in the maindeck, but I don't think we'll need them.
Memory's Journey is a super-fun inclusion that fulfills two roles. It has the cheap and efficient precision of Purify the Grave, but it also possesses the power to hit several things at once. Also, once I'm thinning down, it allows me to basically make my library. It acts as a nice "uh-oh" button if they decide to Searing Spear my Laboratory Maniac during my upkeep on an empty library. Detention Sphere is meant to be a simple solution to whatever unforeseen problem I come across in my endeavors. I can cast it, so why not? Ok, bad logic, but you get the point.
Finally, Sensory Deprivation—yeah, that's what I said. Laugh all you want, but -3/-0 is incredibly powerful for one blue mana, a color not known for its ability to answer resolved permanents. Blank their Gravecrawler / Rancor combo for just U or halt a Vampire Nighthawk or a Geralf's Messenger! This slims down battlecruiser win conditions to manageable levels (Grislebrand, Angel of Serenity, Restoration Angel, for example). Although it has its most glaring applications against aggro decks where your 22 dudes will need reinforcements, it also helps against those decks that want to cast one big dude. What a bargain! They're also a nice toss to the Sphinx, as an established board probably won't need this enchantment.
Close Calls
Because of the narrow goal of this deck, there wasn't a lot of room for close calls, but I think that slots 58-60 of the maindeck were the hardest to fill. Although currently occupied by Cyclonic Rift, I feel like there's something better out there. I considered Abundant Growth, Garruk Relentless, Jace, Architect of Thought, Selesnya Keyrune, Dissipate, and additional Sphinxes and Maniacs. This slot was initially Dissipate, but it was purely reactive, so I decided to do something more potent, albeit defensively, with Cyclonic Rift. Also, I don't have Jaces.
I took the list to my local shop one afternoon to playtest it for a while. The deck actually did pretty well, managing the goal of fighting hyper aggro and midrange builds effectively while buckling to the ten-plus counterspell decks (U/W Flash, for example). The deck does well against aggro (better post-board), Reanimator, and Midrange. Resolved threats only turn out to be a problem if the opponent's creatures outnumber you. Removal is irrelevant, and this deck wins the "cute strategy" match where your opponent has also come up with a tricky idea.
In my testing, there were some cards that pulled their weight very effectively and others that lagged behind. First, Tracker's Instincts is much worse than Forbidden Alchemy. Although still good, I often milled a needed spell (Sphinx's Revelation namely) or spiffy lands. It's still good enough to stay, but just be aware of that. Cyclonic Rift was fine; there were some matches I sided it out, but it did its job very well when I had it in hand. The Sphinx discard combo was quite realistically achieved. Only once did I go truly infinite, but I was still able to turn a grip of four or five cards into a dozen most of the time.
I boarded out Increasing Confusion every time, so I'm pretty sure it's supposed to be a third Revelation. Alchemist's Refuge might also be one of the diamonds in the rough of current Standard. It provides you flexibility in a deck that has to resolve things at the right time. From the sideboard, each card performed very well. The Deprivation did exactly what it was supposed to, and Detention Sphere was a great help against aggro decks. You side in the enchantments versus aggro and the instants for control; it's pretty cut and dry.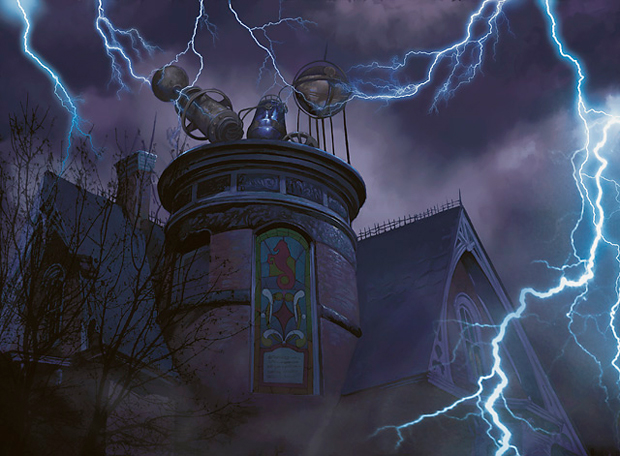 The deck was a blast to play. The thrill of the draw was incredibly addictive, and if you're looking for a fun list to play at your local FNM, I highly recommend giving this one a go. Never be afraid to experiment; sometimes, you might just get one right.
Until next time, don't forget to untap!
- Matt