I'm a slow adopter of consumer technology. The only cell phone I own is a pay-as-you-go number I bought at Walgreens for when I travel. Even my mother is ahead of me in some ways; there's one e-reader between the two of us, for example, and it's hers.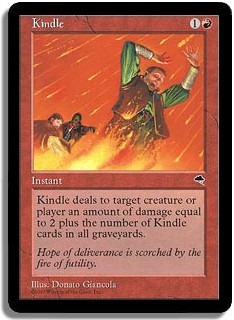 The only Kindle I've ever owned.
That isn't to say I'm a Luddite—I didn't write this column out in longhand on a yellow legal pad, sit down to a Smith and Corona typewriter loaded with onionskin paper for the final draft, and mail the results to the StarCityGames.com headquarters. (If I did, my editor might send Kiku, Night's Flower after me.) For that matter, I'm writing for StarCityGames.com, not a magazine like Duelistor InQuest or Scrye, the most prominent print venues for Magic fifteen years ago. Having basic computer literacy and treasuring my iPod—the last gift my father got for me while he lived—can't alter who I am at root, though. In Magic terms, I'm still an analog Vorthos in an increasingly digital world.
I'm self-aware enough, though, to know that time marches on. Digital world Magic hit two milestones on November 27 that reminded me of how my analog heart is out-of-phase with where Magic is going. One was a publication, the initial installment of the first exclusively e-book Magic novel, Doug Beyer's The Secretist. The other was the announcement of the upcoming Magic Online Holiday Cube" which will mark the official digital debut of Black Lotus (among other Power Nine brokenness) in official online Magic play. I've given myself over to the first of those changes, and I'm still considering the other. I've also had a while to think about what they mean for Magic players who are analog Vorthos-types like me.
I was crushed and rather panicky at the thought of no more print Magic novels. Innistrad's quasi-epistolary novella "The Cursed Blade" was a worthwhile, enjoyable, and free experiment in Magic storytelling, but it wasn't a substitute for a proper Innistrad novel. When I first got wind of a new Magic novel written by Doug Beyer, I was interested. Then I found out it was an e-book, and said interest waned. Even after I read the announcement, devoured the sample chapter, and learned there is a "Cloud Reader" application* that would let me read the first part of The Secretist on my PC, I still was leery. I decided to hold off until reviews for the first part came in.
Then the Wizards of the Coast PR Team blew that plan to Phyrexia. I opened my home e-mail one evening and found a watermarked PDF copy of the first part of The Secretist waiting for me. After a couple of years Vorthosing it up on StarCityGames.com's dime, my spark ignited and I ascended into the Plane of Two-Dollar Magic Swag.
So I plowed through the sample chapter again, forcing my eyes through the watermarks. I went on to the next part and the part after it. I read where Jace [spoiler spoiler] and [spoiler] rescues [spoiler] and [spoiler] destroys [spoiler]'s mind and [spoiler spoiler spoiler] with a vampire [spoiler]. I got to the end, and I wanted more.
I also went to the Amazon page for The Secretist, downloaded a reading app I'd never used before, and spent $2.15 with tax for the same text I'd just read in a PDF.
If you like the world of Magic and you hold out any hope at all for the future of its long-form storytelling, you need to buy this e-book. Let me say that again...
If you hold out any hope at all for the future of Magic's long-form storytelling, you need to buy this e-book.
The Secretist, Part I represents a risk, but one that Wizards of the Coast could take relatively cheaply compared to the expenses of paper publishing. As heavily criticized as the last couple of "block novels" were, they alone did not kill the Magic novel; The Quest for Karn was released after Borders filed for bankruptcy, putting the bookstore chain (and the lyrics for Kanye West's "All of the Lights") firmly in the past. Under those conditions, what sane business professional would keep sending out mass-market paperbacks, wrangling with print houses and brick and mortar booksellers of questionable viability?
There's a whole Innistrad story told in "Angel's Rise and Demon's Release" and its precursors on the Wizards site. Shown, it could've been a novel. As a fan, I was begging for an Innistrad novel. Put me in a meeting room at Wizards with Creative and Accounting, though, same circumstances, same choice, and I'm siding with the bean counters. E-books are the Magic novel's second chance. Makes it impossible for the money folk to say no.
I still am leery about e-books as a whole—not so long ago they made a headline better suited to The Onion appear in The New York Times—but an e-Magic novel is far better than none at all.
Magic Online is an essential tool for many Magic professionals, but I'm still waiting to find out if I can join an eight-player draft from my apartment without violating Texas law** (term 2.1a). If I can, that solves a lot of problems. If I can't...well, I do have a window to experience, in a certain form at least, the thrill of casting a Black Lotus or an Ancestral Recall when I travel to Grand Prix Indianapolis. Just remember: in Texas, crossing the state line to enjoy an illegal within the borders, vaguely degenerate pastime never happens. Ever.
I don't know how long it will take, but the eventual mainstream future of the reserved list Eternal formats, Legacy and Vintage, will be online. The StarCityGames.com Legacy Opens have done a marvelous job expanding that format to the (relative) masses, but the stocks of Underground Sea and Gaea's Cradle, among other cards, won't hold out forever. Attrition happens, and at a certain point it becomes financially irresponsible to take a collectible Magic card and actually play with it. Here's one for the Wizards wish list: a "Duals and Power" Magic-backed checklist card, so no Ancestral Recall or Underground Sea ever has to be shuffled again.
It'll be a good long time before Legacy returns to a niche format, so long as the StarCityGames.com Open Series continues to support it, but without the ability to renew Legacy and Vintage through reprints, both formats eventually will shrink to near-irrelevance in the physical world. Mark Rosewater freely admits that the reserved list was a bad promise made early in the game's history, and in many cases the reserved list actively hurts the same stakeholders it nominally protects. (Sometimes there's a whiff of malicious compliance to Wizards' assiduous maintenance of the reserved list.)
Magic Online and any successor programs, however, are not bound by those rules. The Reserved List is a paper promise and holds no power over a digital future for the game. Magic Online isn't paper Magic, of course—there are no tactile sensations beyond the mouse click and tap-tap on the keyboard, and the cards in your "collection" aren't really yours. On the other hand, Magic Online shuffles automatically and has a Level 5 judge equivalent maintaining every match. It's hard for the real world to compete with that.
I'm still thinking about taking a baby step into Magic Online with the Holiday Cube while I'm, well, on holiday. I want that experience of casting Ancestral Recall, Black Lotus, and a Mox that isn't a Diamond or Opal, even if it's just a digital dream. I haven't used the Magic Online client since I had a trial account with a green Seventh Edition Starter Deck. Maybe it's time to change.
... Which is a roundabout way of saying that even as technologies are superseded in many ways, they persist in niches because of their remaining strengths. There may never be another diamond album after 21, but Adele pulled it off eight years after the last one. Her image, if anything, is an anti-image: big wig, black dress, no pyrotechnics except what her voice provides. No matter how much "flash" is emphasized in music, there's still room for a singular compelling song star like Adele, though she may be more of an "iPod star" than a radio star.
Print isn't dead, but like the British Empire, its footprint is shrinking. In places with the infrastructure to handle digital delivery and play, the medium is far less expensive and enables far more risk-taking than perilous print. Technologies live on their virtues and only truly "die" when all of them are gone. Eight-track tapes were the future once, but some DJs still flip vinyl. Buggy whip manufacturers, the classic "case study" of obsolescence, have gone highly niche but still persist with firms such as Westfield Whip. (Alas, "buggy-whips.com" is a parody site, albeit a hilarious one.) So long as there is demand for Magic art that appears on walls and not just cards, there will be talents such as Steven Belledin working with oils and selling paintings.
As Magic approaches its twentieth anniversary (August 5, 2013—save the date!), it's worth considering how much the world has changed since the game's debut. In August 1993, the Internet was still fundamentally non-commercial. Bill Clinton was new to the White House and more than five years away from being impeached. Kurt Cobain was still alive. So was Frank Zappa. Not yet alive: Justin Bieber. The Lion King hadn't been released yet. I was eight years old and a month away from being introduced to the defining game show of my youth: Legends of the Hidden Temple.
You get the idea. It would be nonsensical to insist on Magic—a game with flavor that started as "here are a bunch of resonant fantasy concepts, now what sticks?"—forever staying in one place.
Rules change. Card frames change. Planeswalkers change. Storytelling media change. Even game play media change. As this game I love demands, I too will change.
Just let a Vorthos who feels 27 and old in a young man's town scowl a little while he's doing it.
As always, thanks for reading.
-- JDB
@jdbeety on Twitter
* I couldn't come up with a way to write this sentence without sounding like the late U.S. Senator Ted "Series of Tubes" Stevens.
** Dear Wizards: if I can't legally play in Magic Online PTQs, tell me whom to lobby and what for. I'm willing to talk to my legislators to nudge them toward giving me the privilege of being able to cry out to you, "Shut up and take my money!" Help me out here?