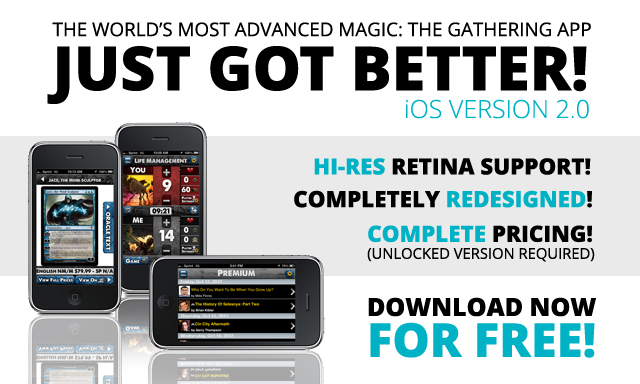 SCGMobile is Redesigned!
SCGMobile has gone a complete overhaul through over a year of release on the iOS platform. Taking in user feedback and new design capabilities, the World's Most Advanced Magic: The Gathering App just got even better! With hi-res Retina support, a brand new Life Management System rebuilt from the ground up, an easy-to-use menu system and all of the same features you know and love, SCGMobile is better than ever!
StarCityGames.com, the world's largest Magic: The Gathering Store, is proud to present a new and exciting version of it's incredibly popular mobile SCGMobile continues the push for a new era in content publishing and media access from the biggest and best in the game.
WHAT'S NEW?
HI-RES "RETINA" RELEASE
The time for low resolutions has passed, and high resolutions are here to stay! SCGMobile has been redesigned for high resolutions with every art asset in the program newly formatted for your iPhone 4+ screens.
MENU SYSTEM
The Menu System for SCGMobile has been redesigned for flexibility and growth, allowing quick and instant access to all of the app's features. Every feature in the app now has its own menu access point, providing infinite possibilities for new features in the future.
TOKEN GENERATOR
This fun and exciting feature allows your phone to get in on the action and be an actual token creature in the game. Use your own photos or our stock avatars, set power and toughness, type line, abilities and rules text and get to smashing!
LIFE MANAGEMENT REDESIGN
The world's most advanced life counter just got an upgrade! Redesigned from the ground up, we wanted to give players a more expansive app with greater possibilities, and we're sure you'll like the results. With infinite player support, dynamic tracking of all player stats, individual commander damage tracking along with player profiles, the best just got better!
COMPLETE PRICING FOR ALL UNLOCKED VERSIONS!
As a thank you for supporting the app, all unlocked version of the application (via in-app purchase) will have access to -complete- pricing of all singles in our inventory! From foils to foreign versions, all prices are now ready and available at your fingertips.
APPLICATION FEATURES
ACCESS ALL STARCITYGAMES.COM CONTENT
Formatted perfectly for your iPhone screen, access ALL of StarCityGames.com's immense content library, over a decade of the best Magic content ever produced. Favorite articles for offline access, login for Premium article access, and view all Premium video natively produced to look best on your device. Looking for a particular piece by your favorite writer? Entire author archives are available! SCGMobile will give you the very best Magic content on the web, streamed to your device every day.
LIFE MANAGEMENT SYSTEM
A life counter so robust we call it the Life Management System! Create profiles for you and your friends, keep track of Commander damage, Poison totals, deck card counts, create and manage player profiles, add notes, peruse and manage your match history and more!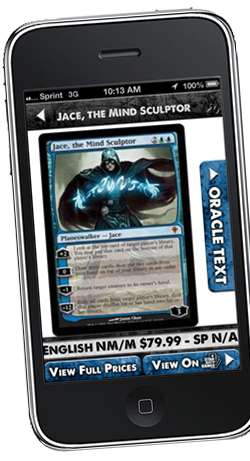 ARTICLE FAVORITE FUNCTIONALITY
Love an article? Favorite it! We include full favorite functionality in the app, allowing you to pull up your top pieces at any time, even in offline mode!
COMPLETE AUTHOR ARCHIVE ACCESS
Love an author? Check out their past work! Just tap on an author's name to see a recent selection of previous articles.
COIN, DICE, AND OTHER TOOLS
We provide you easy access to the tools you need to get your game started. 10-sided, 20-sided, coin flip, and random player? We got all of that and more!
REAL-TIME PRICING
Looking for the value of a card? Just tap the name to see its English Near Mint and its Slightly Played price! This handy and exclusive feature instantaneously shows you the live price of any item in the StarCityGames.com database! Incredibly useful for trading and finding the value in your collection!
Unlock the app and get COMPLETE pricing! Yes, every single version that we have in stock, you'll have a price for it.
CARD LOOKUP
Utilize the immense StarCityGames.com item database to see the details of every card in the game, along with COMPLETE Oracle wordings! Featuring search-as-you-type functionality!
HOT LIST
The Hot List allows you to "favorite" any card you look up and reference it later, complete with live pricing! If you're looking for a way to keep track of your most wanted cards or a quick reference list of what's in your trade binder, you will love this feature.
THE COMPLETE MAGIC: THE GATHERING APP!
Yes, it's all here. The latest and greatest strategy, the biggest names in the game, the most advanced life counter ever created, and the tools you need to take your game to the highest level. All of that and more via SCGMobile!
NEW FEATURES COMING SOON!
With the tremendous success of SCGMobile, we're working every day to bring you more cool features directly to your device. Stay tuned to the StarCityGames.com Twitter account and Facebook page to see what exciting developments are coming soon!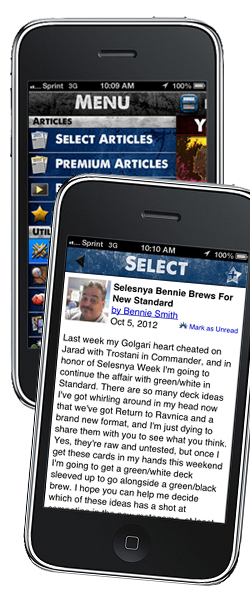 COMPLETE CONTENT ACCESS
View one of the most complete Magic: The Gathering writing archives on the net, with access to dozens of authors about every subject the game has to offer. Got a Premium account? Enjoy all of that content and more, including ALL Premium videos specially prepared and delivered to your device!
NEW: SMOOTH LANDSCAPE ROTATION
You asked for it, you got it! Our programmers listened to your request and can now quickly and seamlessly reorient any article you're looking at in landscape mode.
UPDATING & ARCHIVE ACCESS VIA 'PULL-DOWN' & 'PULL-UP'
Looking for new articles? Using the universally accepted 'pull-down' motion, you can easily and quickly check on the latest content posted on the site.
Looking for older articles? Just do the opposite! Scroll to the bottom of the article listing, 'pull up' and watch new articles appear.
COMPLETE AUTHOR ARCHIVES
Looking for a Patrick Chapin article from 2009? No problem! With just a few taps of your finger, you'll have access to entire years' worth of content.
FAVORITES BOOKMARKING & ACCESS
Love an article? Favorite it! Selecting the little star icon in the top right of any article will allow you to bookmark the article and have it ready and available at any time--even offline!
CARD POP-UP WITH FULL ORACLE ACCESS
Can't remember what a card does? With every card in an article hyperlinked, just tap it and see the full card image as well as access to the complete Oracle wording!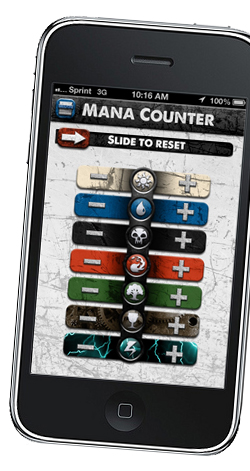 ALL-NEW DESIGN
With the release of version 2.0, SCGMobile has redefined again what a life counter is capable of. With player profiles still in tact, we have the ability to track almost half a dozen stats, add infinite players to any one game, easily track and manage players complete with fun color themes and avatars!
DON'T CALL IT A "LIFE COUNTER!"
The SCGMobile Life Management System is bar none the most advanced life counter ever developed. Designed by Evan Erwin, this tool is the easiest and best way to keep track of life totals in a game of Magic: The Gathering.
UNPARALLELED STAT-TRACKING
SCGMobile brings you the most robust tracking tools ever developed. Track life totals, poison totals, deck count, commander casting amounts, commander damage on a per player basis, the sky is the limit! Need access to dice and coin tools? Just a single touch away at all times! Need to access mana and storm counts? Only a touch away and featuring unique slide control ensures you never accidentally reset any values!
PLAYER PROFILES
SCGMobile steps ahead of other apps with the groundbreaking player profile system. Set up names, profile pictures, Commander names, color schemes, and more for each person in your playgroup. Instant access to all of their data along with the ability to change and save on the fly.
Never again will you have to type in the name of your best friend to battle--just load up their profile, and you're ready to go.
MULTIPLAYER & COMMANDER SUPPORT
With our new design you can have as many players in the game as you choose! No limits! FULL support for Commanders, Commander damage from ANY source (including your own!), you can even keep track of commander casting counts on a per-user basis!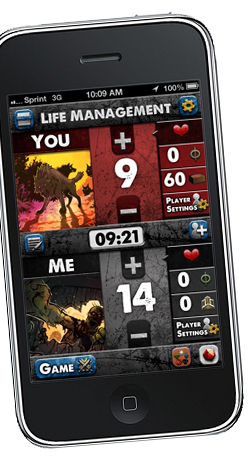 A VARIETY OF COLORFUL BACKGROUNDS
A whopping -seven- backgrounds are available for you to choose from, allowing you to mix and match your favorite color profiles. White, Blue, Black, Red, Green, Artifact, and Gold are all possible choices as backgrounds for the players in your game.
COMPLETE HISTORY ACCESS
View every match you've ever played, and keep track of who played whom; you can even edit the titles of each match AND each game to better describe what occurred in both.
COMPLETE SETTINGS MANAGMENT
Decide you want to play best 3 of 5? Need to change the starting life totals? Starting poison totals perhaps? It's all here and more, with plenty of knobs and gears to turn and change.
YOUR COMPLETE LIFE TRACKING SOLUTION
StarCityGames.com is the world's largest Magic: The Gathering store, and it's time we brought you the best mobile app to go with it. The Life Management System was designed from the ground up to provide you with the best gaming experience possible, and we're sure you'll agree.
SEARCH AS-YOU-TYPE CARD LOOKUP WITH REAL-TIME PRICING!
Ever needed to look up a card with only part of its name or needed to look up an Oracle wording for a judge call? Now you've got both! SCGMobile provides you with an easy to use, search as-you-type card lookup function that shows you every card in the entire StarCityGames.com database along with complete, up-to-date Oracle wordings along with -complete- pricing data for unlocked versions!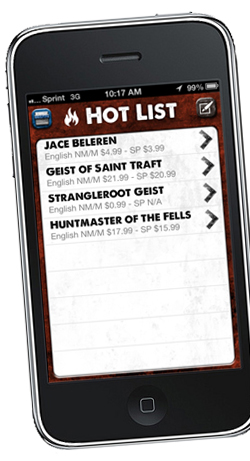 NEW: TOKEN GENERATOR!
Ever wanted to make your own token? Now you can! Get your phone into the fray with a fun feature that allows you to use your own image (or our provided avatars), set the power and toughness, card type, and rules text to get in on the action!
HOT LIST FUNCTIONALITY
Like a card? Add it to your Hot List! This gives you a one-stop-shop to see a list of your favorite cards and their prices!
COIN AND DICE TOOLS
Looking for D20, D10, D6, and D4 options? We got you covered! Even those who don't play Magic can appreciate the easy access to some of gaming's most necessary accessories—now available right on your phone!
COIN & RANDOM PLAYER FEATURE
Looking for D20, D10, D6, and D4 options? We got you covered! Even those who don't play Magic can appreciate the easy access to some of gaming's most necessary accessories, now available right on your phone!
COIN & RANDOM PLAYER FEATURE
Coin flipping is necessary in many games, and Magic is no exception. SCGMobile has this feature, as well as the ability to choose a random player from the profiles currently loaded in the Life Management System! You don't need to pick heads or tails when a simple button press can give you the name of the person who wins!
HISTORICAL ACCESS
Have to flip a bunch of coins in a row and keep track of them? Feel free to peruse your last session's flips, rolls, and random players through the history section.
SEE WHAT PEOPLE ARE SAYING ABOUT THE HOTTEST NEW MAGIC APP!
Love the app. Easily the best MTG app on iOS.
Justin Pearson, App Store
Great app. It is a simply and elegant app that does exactly what it says it does. Great job SCG.
Raptor1210, App Store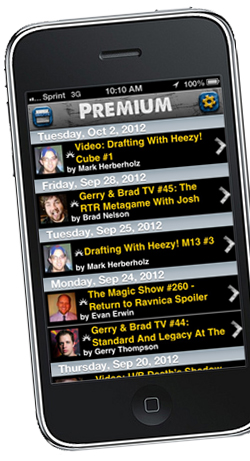 This app has everything you could ask for and then some. I work for Apple and this is by far THE BEST Magic App to date! A must buy for any player!
Jake 113087, App Store
Been playing around with the App. IT, IS, AWESOME. No more using paper during a match and no guessing Proxy cards! SO GOOD.
Neoshinesama on Twitter
Had it for 5 min and I already love it. Great work
TheGoatnapper on Twitter
You guys are on top as ALWAYS. Love the app, keep it up man!
jpftw on Twitter
Looks amazing, bought it before the video finished.
Gardevi on Twitter
Gotta admit this is ballin!
cavemankellen on Twitter
One of the things I most wanted from scg, thanks for making it happen.
elzahori on Twitter
This looks really cool by the way, definitely picking this up. :D
Level9Chao, YouTube
Hey man, kudos to you on the SCG app! It's definitely one of the most beautifully designed apps I've seen on any platform.
m00tzman on Twitter
Evan, SCG Mobile looks fantastic. Touch pricey, but packed full of stuff.
Plubby on Twitter
I really dig the app, great features!
iioshius on Twitter
Love the app. Best life counter on a phone. Card look up is sweet. Looking forward to updates!
friarpud on Twitter
Love the app
DavidMPain on Twitter